MV Norwegian Spirit
Getting around this big ship is easy. All you need to do is to get used to your surroundings. The most important is to know where your assembly station is should the alarm trigger! Well, that was the first and foremost activity we had to take part...all of us, guests and crew! If you missed the first fire drill, you will be called again and should you miss again, they will call you personally. In other words, they really are serious when safety is concern. I felt safe immediately! I knew that we are in the good hands of the crew!
The Jogging Track
If you are a person who is health watcher, there is a jogging and walking outdoor track on the top most deck. Opened air to the sea breeze. They have basketball for everybody and golfers are not forgotten......you have your very own corner to swing your club.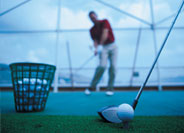 Golfers Corner

A deck below is a swimming pool with four jacuzzies which can fit 6 European size adults each. No problem to catch the sunlight to tan your body because you can do it on those two decks. They even have a No Noise Zone for the sun seekers .... quiet enough to sleep under the sun. The children pool is on deck 12. Nice to see the children having fun because they have slide, paddling pool and hot tub just for kids. They named it Buccaneer's Wet & Wild.
Adults pool
Children's pool
Other than that, a Fitness Center is also provided. Sauna and Mandara SPA for massaging is in the same area. And if you love doing aerobics, all you need to do is to be at the Galaxy of Stars which is situated on top of the Captain's bridge. Two different instructors will lead you every day alternately. It was full of fun when Latin and Salsa moves were part of the movements taught.
Aerobic at the Galaxy of Stars
There are so many places that you can go on board .... from Aft to Forward! The Stardust Theater held many kinds of entertainment every night with two shows daily. I remembered entertained by a group of Rock Stars, Broadway and Vegas Show, Magic Show, A Solo Violinist, Circus, singing and dancing and many more. Should you missed the first show at 7.30 p.m, just jump in the next at 9.30 p.m. No hurry! Just take your own sweet time.
The Entrace
The Show






The Performance

Child Care Center for the little ones, Video Arcade, Writing Room, Internet Cafe, Library, Boardroom, Meeting Room and what else did I miss? They have it all.....they sure do!
The Internet Cafe
There is one place called the Parents Free Zone which is meant for teenagers. They have lots of activities for the teenagers. Every now and then we will see the teenagers running around in pairs or in small groups getting their tasks done. Day or night, the teenagers have their own activities. No worries for the parents!
The Teenagers activities
On Deck 7, where the lobby is, on the port side, you can find the 24 hours restaurant The Blue Lagoon which served fast food like burgers, fries, salad, sandwiches, Fish and Chips and many more. On the starboard side is a pub for drink lovers. Besides these two outlets for F&B, just jump in Shogun, The Garden, Raffles Court and Terrace, Le Bistro, The Windows and an Italian Restaurant .... Maybe I miss one or two .... you have no time to feel hungry because food and drink is served round the clock throughout the cruise. Just pick your choice and sit and enjoy your food for your tummy and enjoy your sight of the blue sea through the windows. If you are lucky enough, you might catch a glimpse of dolphins in schools.
The Grand Centrum
The Blue Lagoon
The mural
On Deck 8, at a lounge, we enjoyed a pianist playing songs from Frank Sinatra era, The Beatles, Barry Manilow and even a night tribute to Sir Elton John. You can see some couples so much in love in each others arm dancing to the beautiful music.
Mr Fabriazi , the pianist and singer.
Then came a group of three men called The Latin Express. The sound of the Latin music made your body moves. Guests, young and old just stood up and dance to the sound of the music! It was so enjoyable. Everybody, well almost everybody was so sporting and acted spontaneously... no age problem and no shame ... just a bunch of people having fun on a vacation at sea!
Some other nights there will be a guitarist with country songs and a duo with lots and lots of love songs! All of them took turns to perform either in the lounge, by the pool, in the bar and so on. All you need to do is to know the time and the spots.
The Guitarist performance
Once they held a competition for the guests .... a Karaoke Competition. One of our group member, Dato Othman Salleh took part. He sang Love Story and he was so good that many praises him. Jolly good job old buddy! We are so proud of you! Malaysia Boleh!!!
....Love Story....
Some people love hard and noisy music. Just walk in through Maharaja, The Casino and you will find Maharini The Disco. Seems like they have rooms for everybody. No time is wasted .... full swing on board!
The Maharajah
If you love shopping, there is a Duty Fee Shop and some other shops on board. Just name it and you'll have it. No cash needed on board. Just need to swipe your Cruise ID upon purchased. All prices are code in US dollars.
The Duty Free Shop
A Jewelery Shop
Some nights they have auction of paintings by some famous artists at The Art Gallery or even sale of branded watches, jewelleries, Swarovski beautiful and tempting products and so on. You need to wait for the right moment to get the best price!
The Art Auction
All these spots are in different decks of the ship. It is such a BIG ship that once you are in your stateroom, you don't even know what is happening and you can sleep soundly like a king! Some nights they even conducted parties until late night! As for my friends and I, since we stayed in different decks, we only see each other during dinner and sure enough to bump into one another at breakfast. But after that, we made our own choice to entertain ourselves.
This is a big ship BUT it is not the biggest of its kind ....in fact she is only one third of the biggest!
(the biggest cruise ship is Oasis of The Sea and Allure of the Sea with 225,282 GT).
But with 2,000 guests in hand and almost 1,000 crew, because of her size, you seldom see the same people everyday .... meaning we made new friends on board from all over the world everyday.......and we are the only 10 Malaysians on board.
Yes, she is a BIG ship of 75,338 GRT, 910 feet long, 183 feet wide and 13 storey high. She has 9 elevators for guests and 8 elevators for crew.
Yes, she is a BIG ship that carry almost 3,000 people and carry tonnes and tonnes of food to feed us all!
Yes, she is a BIG ship that she has her own garbage incinerator and main laundry facilities which includes machines for dry cleaning, washing and dryer machines, sea water desalination plant for fresh water!
I remembered my Ustaz (religious teacher) told us about Bahtera Nabi Nuh (Noah's Ark)! At least now I can sort of imagine the size of the ship he built to fit in humans and animals all over the world in pairs with food and drink ....... It must be much much bigger ....... MasyaAllah!
Me and my dream
My stateroom
Me, the happy guest with the BIG ship!